Million Meals in March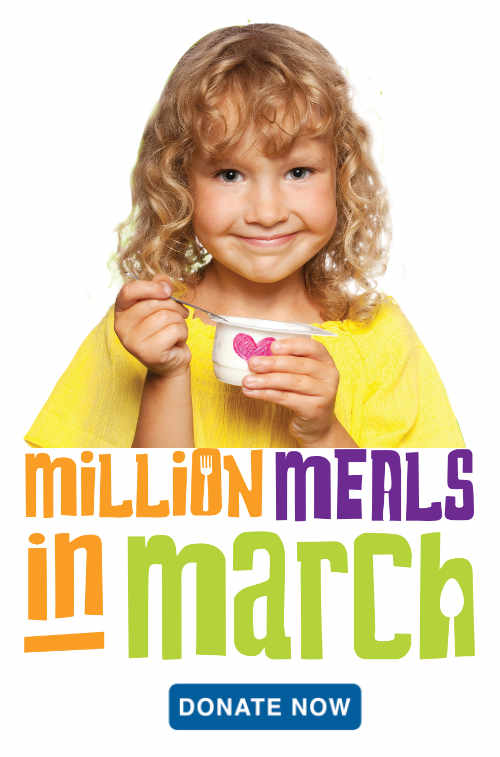 Million Meals in March
In celebration of Nutrition Month, The Idaho Foodbank has launched a statewide effort to increase the food and funds collected in March and provide hungry Idahoans with 1,000,000 healthy and nutritious meals. Aligned with its Hunger to Health initiative The Idaho Foodbank is dedicated to progress the development of innovative and sustainable programs to make healthy eating accessible and affordable to all Idahoans.
Million Meals in March Website
Every dollar donated to The Idaho Foodbank can provide five meals, when doubled with individual donations these funds will provide food for 200,000 meals.
Public Events and Promotions Scheduled:
3/1 – The Boise Co-op in downtown Boise is donating 3% of sales to The Idaho Foodbank's Million Meals in March campaign for First Friday shoppers on March 1.
3/1 – 30 – Shu's Idaho Running Company in Boise is holding a March Food Drive.  Bring in 2-4 canned goods and receive $10 off a pair of running shoes.
3/1 – 30 – The Firestone Walker Brewing Company will donate $1 for every Firestone Walker 6-pack sold in Idaho WinCo stores in March.
3/4 – 31 – Macy's Bag Hunger/Makes Cents promotion. Macy's Stores in Lewiston and Boise will be asking customers to round purchases up to the nearest dollar with proceeds benefitting The Idaho Foodbank.
3/5,12,19,26 – Pebble Creek Ski Resort is offering $30 lift tickets on Tuesdays in March to skiers who bring 3 cans of food to donate.
3/23 – Daisy's Madhouse Theater in Boise is celebrating their 10th anniversary of Will Act 4 Food, and donating ticket proceeds from the event.
3/28 – The Pocatello-Chubbuck Chamber is holding their After Hours gathering at Pocatello Idaho Foodbank Branch, 555 1 st Avenue 5 pm – 7 pm.
Sponsors
Presenting sponsor Southern Idaho Honda Dealers is helping the Idaho Foodbank reach our goal by offering a $20,000 donation match.

Thank you to Colliers International for sponsoring our kick-off event on March 1 and to all our sponsors who have Million Meals in March promotions running this month and to all the Corporate Challengers who will be participating in fund raising, volunteering and other competitions, including a Can-Structure contest.
Find out more at the Million Meals in March Website!